Aquarium
Unique among aquariums in Western NC, Catawba Science Center offers fresh and saltwater aquarium galleries for visitors to explore. The saltwater aquarium gallery features a shark and stingray touch pool and daily shark feedings, in addition to a marine touch pool with hermit crabs and other species native to coastal Carolina.
Catawba Science Center's Expedition Amazon in the freshwater aquarium gallery features a collection of rare fish, turtles, snakes and other species found in the Amazon River Basin and other freshwater habitats in Central and South America.
Saltwater Gallery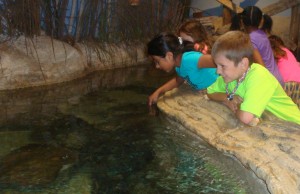 Sharks & Stingrays
See and touch different species of LIVE sharks and stingrays in this hands-on marine habitat. See live shark feedings weekdays at 1:15 p.m. and weekends at 3:15 p.m. (Feeding times subject to change without notice.)
Coastal North Carolina
Explore a coastal habitat for marine creatures. See and touch hermit crabs, horseshoe crabs and observe a variety of coastal fish.
---
Freshwater Gallery
Amazon Basin
See rare and remarkable fish, frogs, snakes, turtles lizards and crabs native to the Amazon Basin. Look closely for freshwater stingrays and brilliantly colored poison dart frogs.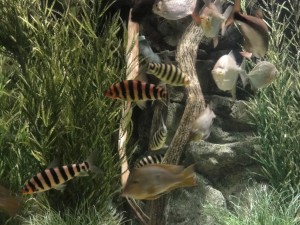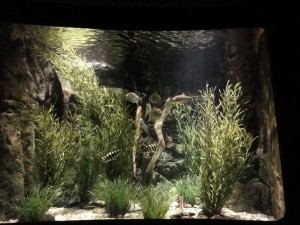 Amazon Oxbow
Get an underwater view of a variety of fish found in an Amazon oxbow lake – including Silver Arowana, Eartheaters, Catfish and beautiful Peacock Bass. Learn about oxbows, or crescent-shaped lakes in lowland Amazonia that form when a river changes course.
Wall of Life
Biotope aquariums display species native to various habitats in South America – whitewater, brackish and blackwater streams, as well as an up-close look at predator, camouflage and endangered fish species. Expe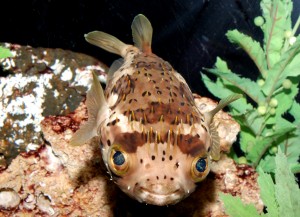 dition Amazon includes electric fish, including knifefish and a three-foot electric eel.
---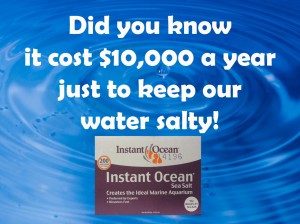 Won't you contribute so our stingrays, sharks, and other animals can have a healthy environment as they entertain children each day?