Field Trips
CSC school programs feature grade-specific, hands-on experiences in natural, physical, and earth sciences. All programs complement the NC Common Core & Essential Standards and goals. All CSC programs are designed to further students' understanding of the Nature of Science.
For more information or to make a reservation: 
828.322.8169, ext. 301
Field Trip and Program Guide 2017-18 (PDF)
Program Fees for Contract Schools
Worksheet to Download, Print and Plan Your Visit (PDF)
---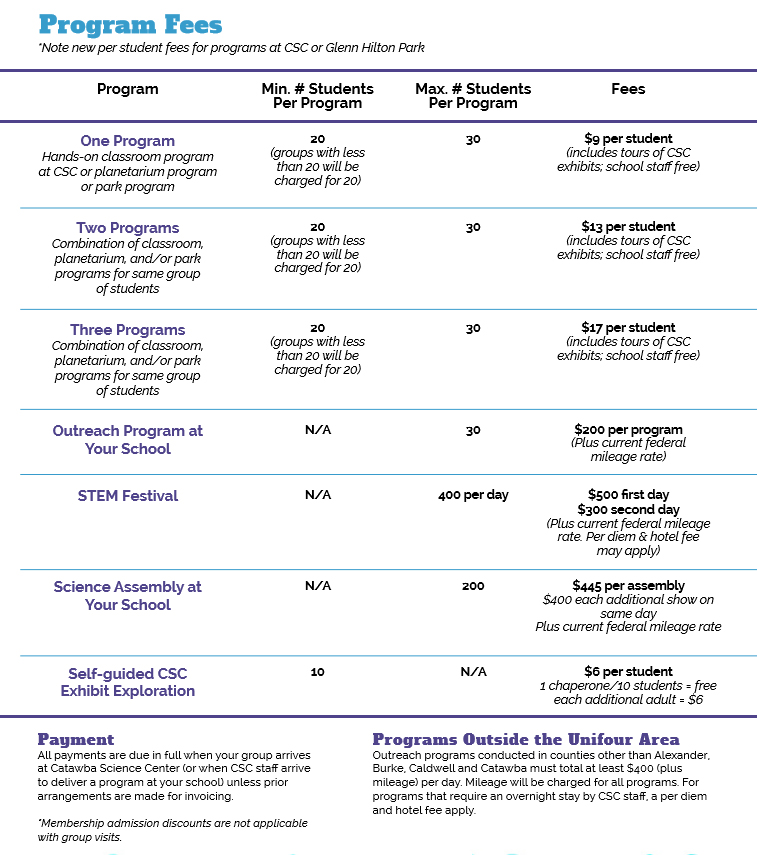 ---
---
Classroom Programs at CSC 
A field trip to Catawba Science Center is an exciting opportunity for groups to share interactive learning experiences. In addition to your chosen program, your group is free to explore the entire science center.
Instead of scheduling a field trip to CSC, we can bring the same exciting classroom programs to your site.
Assembly Programs
These programs will both educate and entertain large groups. Learn fascinating facts and observe exciting physical science demonstrations.
Planetarium Programs and Shows
The planetarium/digital theater brings the nighttime sky indoors. Programs are available for grades K-12, and focus on stars, the moon, planets and constellations.
Park Programs
Students in grades K-5 will use their science investigation skills to explore ecosystems, including wetlands and forest.  Located in northwest Hickory, Glenn Hilton Park affords great learning opportunities, picnic shelters and play areas for visiting school groups.
To Glenn Hilton Park from Catawba Science Center
From North parking lot: Turn right on 3rd St. NE, and then right on 3rd Ave. NE.
From South parking lot: Take right onto 3rd Ave. NE.
Turn right at traffic light onto 2nd St. NE (Hwy 127N). Go through five stoplights and move into the left lane. Turn left at the sixth stoplight (you will see a Lowe's on the right and Copper Bean on the left) onto 16th Avenue NE. You will pass Corinth Reformed Church on the right, and go around a sharp curve to the left, with a flashing yellow warning light. Take the next right onto 6th St. NW. Go approximately one mile and the entrance to the park is on the left. The parking lot is immediately to the right.
Museum Exploration Only (no program)
Self-guided explorations of CSC's exciting and educational hands-on exhibits, without programs, are available to any group of 10 or more.
CSC preschool educators use puppets, puzzles, live animals and more to introduce science to your students. (Programs are available on site and as outreach.)
---