Special Projects
A project from 2016
Catawba Science Center + Lenoir-Rhyne University + 3Mgivers 
First ever GPS-based Great Blue Heron Study
Thanks to a generous grant from 3Mgivers, Catawba Science Center and Lenoir-Rhyne University were able to conduct research on Great Blue Herons.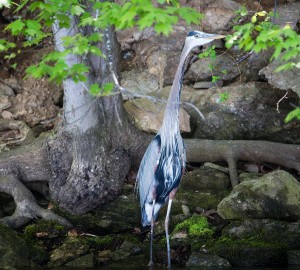 Live trapping of the birds began in March 2014. As birds were captured they were adopted by a nearby school. The students were taught about Great Blue Herons and the class decided on a name for their bird.
Each bird transmitted three text messages daily regarding its hourly GPS position. Thus, students were able to observe the daily movements of their heron and formulate questions and hypotheses about the patterns.  They could then make predictions about future movements.
Students tested water quality near the birds, which provided the opportunity for teachers and students to learn about reservoir ecosystems.
It appears that Great Blue Herons in the Catawba River Basin occupy small territories.  This provides a good opportunity for population estimates. If birds rarely leave their territories, and we take "quick" (i.e. six hour) snapshot surveys of a region, then we can have a fairly good idea of the population of birds using that region. This would have been impossible without the knowledge we now have from our tags.
You can learn more about this special project by watching a video, here.