Summer Fun
My 4 year old grandson loved his Messy Science class this week and looking forward to his next class with bubbles. Great staff and subject matter. He came home excited every day!  Miya T.
We are well known for our fun and educational summer camps in the Hickory area. Each summer, starting in June, Catawba Science Center presents its annual Summer Fun Science Camp, including 10 weeks of hands-on science day camps for youth in grades pre-K to rising ninth. Summer Fun Science Camps feature small classes taught by certified teachers and trained assistants, high-quality programming and interaction with CSC exhibits.
---
Summer Fun 2017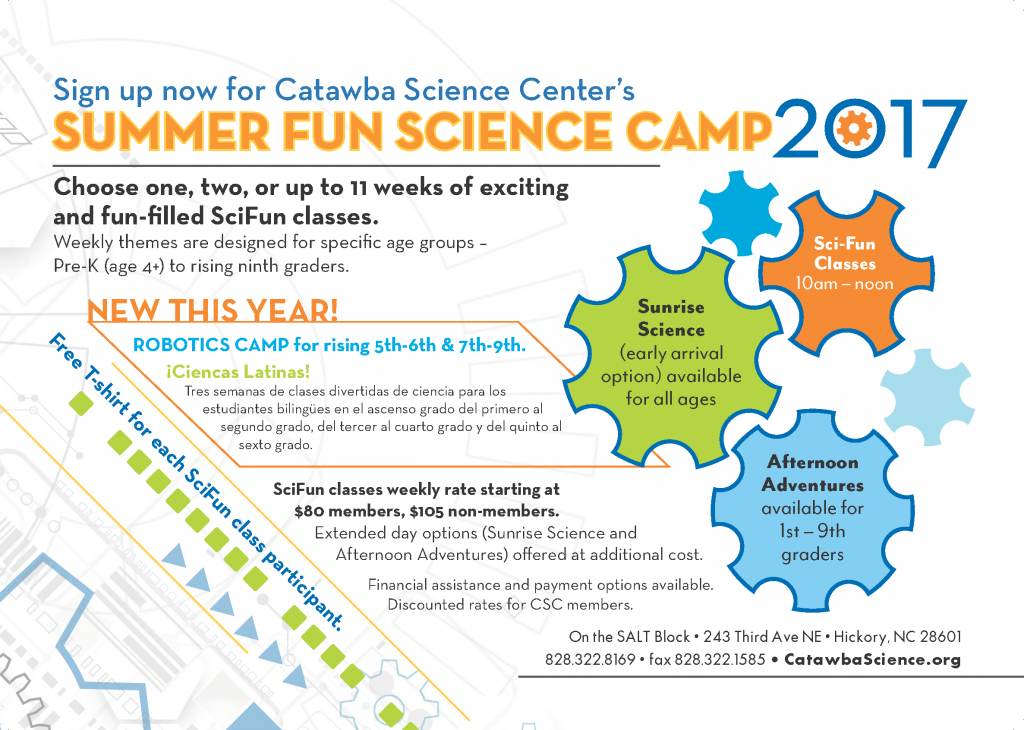 Below are links for the 2017 Summer Fun Brochure and Registration. Listed in the brochure are the classes offered and their prices. The brochure comes with detailed instructions on how to fill out the registration insert. You may mail, fax, email, or bring the registration form to Catawba Science Center.
Mailing address: P.O. Box 2431 Hickory, NC 28603
Fax: 828-322-1585
Email: scheduling@catawbascience.org
In person: Bring to offices on third floor or main building of Catawba Science Center.
Click Here for the 2017 Summer Fun Brochure
Click Here for JUST the Registration Insert
For Scholarship Information Click Here
---