Solar Eclipse – 21 August 2017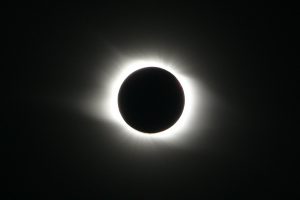 Total Solar Eclipse (photo: Alex-Polezhaev)
On August 21, 2017 the Moon will pass between the Earth and the Sun and an eclipse of the Sun will be visible from North Carolina.  In the western part of the state it will be a total solar eclipse (the Moon will completely cover the Sun); for the rest of the state a partial solar eclipse (the Moon will cover only part of the Sun).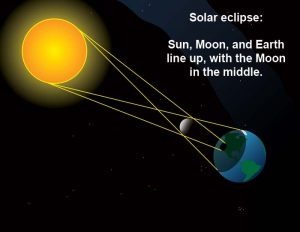 How the eclipse will look in Hickory and the Catawba Valley.
Exact times will vary slightly by location (see chart below).
Join us for the day of the eclipse!
There will be live streaming of the eclipse in the library, planetarium shows on the eclipse in the Millholland Planetarium, a video on the eclipse in the Drendel Auditorium, crafts and face painting with the Hickory Museum of Art, and more! All of these family friendly activities will take place rain or shine, and it's all FREE!
Viewing the eclipse.
Looking directly at the Sun is unsafe except during the brief total phase of a solar eclipse ("totality"), when the Moon entirely blocks the Sun. The only safe way to look directly at the uneclipsed or partially eclipsed Sun is through special-purpose solar filters, such as "eclipse glasses" (see below).  Homemade filters or ordinary sunglasses, even very dark ones, are not safe for looking at the Sun.

The following well-known telescope and solar-filter companies manufacture and/or sell eclipse glasses and/or handheld solar viewers that have been verified by an accredited testing laboratory to meet the ISO 12312-2 international safety standard for such products. They are listed in alphabetical order; those with an asterisk (*) are based outside the United States.
Numerous other astronomy- and science-related enterprises and organizations sell eclipse glasses made by the companies listed above. If you buy from any of these businesses, you know you are getting ISO-compliant safe solar viewers.
This information came from: https://eclipse.aas.org/resources/solar-filters
For more information about safely viewing the eclipse, click here.
Learn more about total solar eclipses.

Eclipse Times.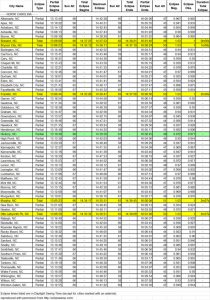 Too small to read? Click on the chart for slightly larger version or click here and scroll down.
Eclipse Maps.
The maps below are used with permission from EclipseWise.com Additional information and more detailed maps can be found here: http://eclipsewise.com/solar/SEnews/TSE2017/TSE2017states/TSE2017stateNC.html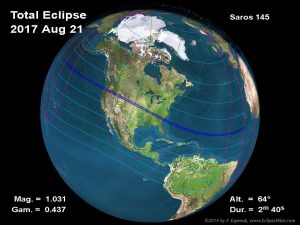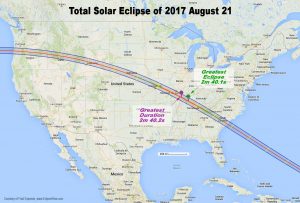 ---
Useful Links:
NASA Eclipse site: https://eclipse2017.nasa.gov/
Great American Eclipse.com: https://www.greatamericaneclipse.com/
An Observer's Guide to Viewing the Eclipse:  http://www.nsta.org/publications/press/extras/files/solarscience/SolarScienceInsert.pdf
An 8-page PDF insert aimed toward science teachers.
American Astronomical Society: https://eclipse.aas.org/
How You Can Do Science During the Eclipse: http://www.space.com/35402-great-american-eclipse-august-2017-crowdsourcing-science.html