Italian Dinner

Catawba Science Center would like to thank the Catawba Science Center Guild, all the many Nova Sponsors, and everyone who attended for making this past years' Italian Dinner the most successful yet!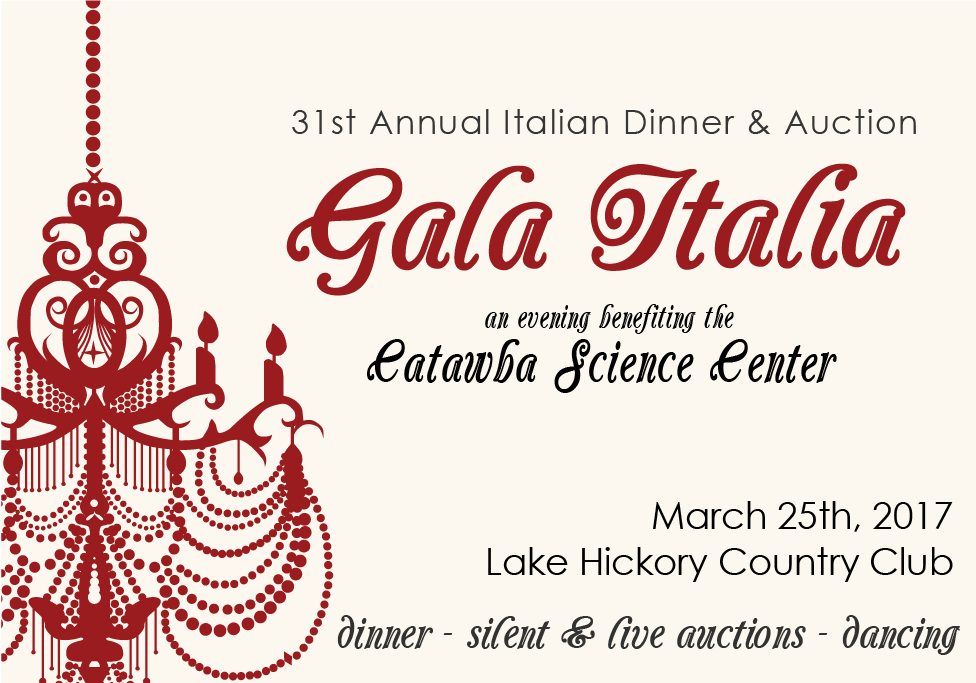 Nova Sponsors:

Cocktail Nova:
PNC Bank
Platinum Nova:
CommScope
Gold Nova:
Andy Brinkley Studio
Axjo America, Inc
Brown & Neuwirth, Oral & Cosmetic Surgery Center
Carolinas HealthCare System Blue Ridge
Corning Optical Communications
David E. Looper & Company
Frye Regional Medical Center
HSM Solutions
Heather & Pat Joyner
OrthoCarolina Hickory
Patrick, Harper, & Dixon, LLP
Pepsi-Cola Bottling Co. of Hickory
Piedmont Pathology Associates
Piedmont Plastic Surgery & Dermatology
Porsche of Hickory
Shurtape Technologies, LLC
SunTrust Wealth Management
US Conec. Ltd
von Drehle Corporation
Rob & Townes Wessels
Silver Novas:
Joshua M. Millsaps, DDS
McDonald's – Link Management
Carolina Surgery and Cancer Center
Bronze Novas:
Ella Blu
CBSA Architects
Mr. and Mrs. George A. Moretz
Dr. and Mrs. Sanjay Patel
Dr. and Mrs. Merritt Seshul
Shaffer Travel Enterprises, LLC
Below are just a few of the items that were available for auction at this past year's Italian Dinner.